Study Site: Moscow Zoo (Moscow prov., Russia).
Dates: Since 1999.
Participants: Volodin Ilya, Volodina Elena, Kalashnikova Maria, Voinilovitch Maria, Doronina Lilya.
Collaborators: Goltsman Mikhail (Lomonosov Moscow State University).
Popular papers: <Science & Life>
The question of relations between the call structures and internal states of animals is of most importance. One of the most actual tasks of bioacoustics is whether the voice provides reliable indicators of pathology or stress. Resolving of this questions helps to find vocal indicator of welfare of animals kept in captivity. Vocal indicators of welfare represent a non-invasive tool of analysis, without traumatic or unpleasant for animals manipulations. The particular purpose of this study is to reveal the relationships between the call structures produced by defending gerbils and the tense of encounters.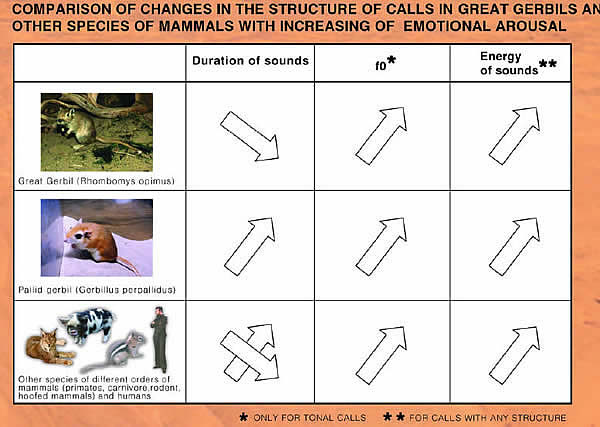 Calls of the great gerbils.